At University Loft, we're all about comfortable functionality. Or should we say functional comfort? Either way, as you'll see, form and function in university housing furniture coexist quite nicely with these ergonomic dorm room seating solutions from University Loft.
First up, consider ULoft's classic two-position chair. This timeless beauty lets the student rock back slightly while maintaining balanced surface-to-surface contact between the chair and the dorm room floor. Working at your desktop computer? Sit upright in the two-position chair. Reading or taking a break from studies to phone a friend? Kick back a notch. The two-position chair handles it all.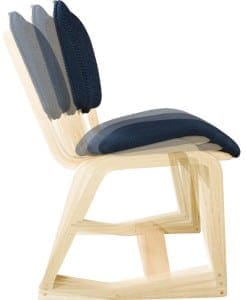 But if two positions aren't enough for you, University Loft takes ergonomic form and function a step further with the three-position chair. Not only can you sit upright or rock back, as with the two-position chair, now you can also tip slightly forward for more comfortable close-focus learning. By rocking forward those few degrees, the three-position chair can reduce stress and minimize potential blood flow restriction in the thighs.
Finally, consider the Wave Chair from University Loft. This innovative and patent pending design allows the college student to use the Wave Chair for desk seating or – by removing the seat from the base – as a rocker-style seat perfect for gaming or laptop computer use. In fact, the detached base becomes a lower-level workstation surface enabling laptop positioning for comfortable (there's that word again) computing. Want more ergonomic features from the Wave Chair? We're
already there with breathable mesh seat and back surfaces, continuous contouring for the rocker slats, and a pneumatic seat adjustment.
Form meets function. Comfort meets ergonomics. What more could you want in your college dormitory furniture or student apartment furnishings?
Bob
The ULoft Blog Team
About University Loft Company and our solid wood modular residence life furniture:
Since 1984, when James Jannetides built a loft configuration for his own dorm room at Southern Illinois University, hundreds of thousands of college students have enjoyed better campus living thanks to University Loft furniture. Today, University Loft serves more than 1,200 colleges, universities and related student housing partners. As Jannetides' says: "We are always learning, always innovating, and always improving … our environment, our products, and our service. We are University Loft Company."