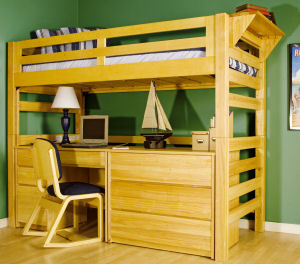 On a particularly funny episode of the Seinfeld sitcom, Elaine is driving a highway at night and discovers that the lanes have been "widened" by Kramer who has merely painted over the center lines with black paint. She says, "Wide lanes. This is so luxurious!" It was an unexpected use of the word "luxurious" and got me to explore what luxury is really all about. According to dictionary definitions, luxury can describe something that brings pleasure or comfort. So yeah, I'd say that University Loft's solid wood student furniture for residence halls and dorm rooms is, indeed, luxurious.
University Loft college dorm room furniture certainly brings pleasure – to college residence life furniture buyers and students alike. After all, it makes life easier in the dorm room. You see, with University Loft student furniture, you can configure your student living quarters to your liking. Our furniture is modular, meaning it can be arranged in dozens of ways to meet the student lifestyle needs of dorm room roommates. Better yet, personalizing your student living space is easy thanks to ULoft's Tool-less System.
And as for comfort? Well, you'll certainly be comfortable in your upholstered Two-Position Chair from University Loft or your ULoft Wave Chair. These ergonomic wonders keep you comfy even during finals week! The Two-Position Chair lets you rock back (tilt!) the way students naturally do when seated at their student desk. And the Wave Chair is part desk chair, part gaming rocker and part laptop desk. Options like these certainly make dorm life more personal and comfortable. Downright luxurious, don'tcha think?
To learn more about University Loft's college residence life and dormitory furniture, click here or contact us today at 800-423-LOFT (5638).
Bob
The ULoft Blog Team
About University Loft Company and our solid wood modular residence life furniture:
Since 1984, when James Jannetides built a loft configuration for his own dorm room at Southern Illinois University, hundreds of thousands of college students have enjoyed better campus living thanks to University Loft furniture. Today, University Loft serves more than 1,200 colleges, universities and related student housing partners. As Jannetides' says: "We are always learning, always innovating, and always improving … our environment, our products, and our service. We are University Loft Company."