It's really hard to try to study when you can't get comfortable. Between constantly shifting about on your seat and standing up then sitting back down, your concentration is broken and studying becomes more like a massive game of Concentration. At University Loft Company, we want students to focus uninterrupted and study in comfort. The new Wave Chair 2.0, the famous Two-Position Chair or even one of our office chairs are ergonomically designed with your comfort in mind.
The Wave Chair 2.0 is versatile. It can be used as an office chair, a gaming chair, a studying chair and converts into a little desk or end-table – depending on your mood.
The Two-Position Chair can come with a wood seat or padded (you choose the fabric). It rocks – literally. If you just tilt back for a necessary stretch, you don't tip over on your back! It's awesome, and it's comfortable.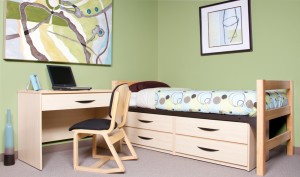 University Loft wants students to study in comfort. Our chairs are ergonomically designed with your comfort in mind so whether you are studying behind one of our writing desks or resting on top of one of our loft beds, we want you to get the most out of your study or work efforts. Thousands of college students worldwide are living better campus lives because of University Loft Company's student residence furniture.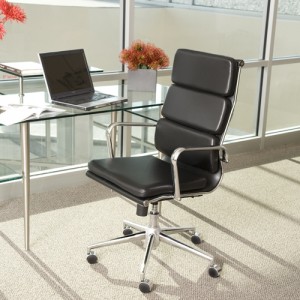 To find out more about the college furniture and other fine products, have a look at our catalogs. Your business is important to us, so please contact us with any questions you have, or give us a call today at 800-423-LOFT (5638). A University Loft representative is ready to help you. We can ship your order at short notice.
More than just LOFT. The innovative drive of University Loft Company produces superior student residence furniture, military housing, off-campus furniture and apartment furnishings. Founder and CEO, James Jannetides is an inspiration to many. His no compromise attitude sets the standard high in the furniture industry.
Until next time ~ Ginger Bock