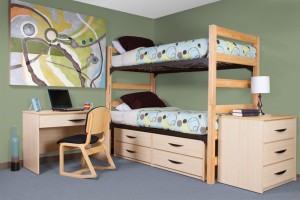 University Loft puts extra care in the great college furniture, apartment furnishings, off-campus and military housing manufactured for you. Great attention is given to all the products. Nothing gets ignored. Here are 5 things University Loft never overlooks.
Safety. It's safety first for ULC furniture. Each piece is constructed to meet or exceed safety regulations.
Durability. From generation to generation, from graduating class to graduating class, University Loft furniture still stands. Years of use have proven the durability of our student resident furniture. Our university furniture has survived floods and hurricanes. It may get wet but it doesn't get ruined.
Comfort. Work time, study time and rest time, University Loft furniture creates an atmosphere of comfort. Whether you are lounging on the Interlude Series, gaming in the Wave Chair 2.0, studying from a Two-Position chair, sleeping on a loft bed or chilling on one of our sofas, you will do so in comfort.
Quality. Only the best for our customers. Our features come with quality assurance. From foam and pocketed spring cushions to Velcro® technology, from craftsmanship to heavy duty drawer glides, ULC puts quality into everything produced.
Customer Service. The staff of University Loft offers the best quality in customer service. Always available to serve you, our representatives will answer questions you have and point you in the right direction. If you need something quickly, we are ready to ship your order at short notice.
These 5 things University Loft never overlooks so that our valued customer receives only the best from us.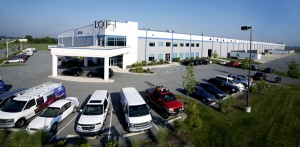 You can see much more of the student residence furniture, off-campus housing and GSA furniture by checking out our catalogs.
Your business is important. A qualified University Loft representative is ready to answer your questions. Simply contact us or call 800-423-LOFT (5638).
Founder and CEO, James Jannetides says, "We are a company with ethics. Integrity is more than a word. We manufacture furniture the right way." As a leader in the furniture industry, University Loft is honored to live by a high standard of ethics continuing to bring innovative ideas for university furniture, off-campus housing, apartment furnishings and military housing. 
Until next time ~ Ginger Bock